Common K-POP Words and Phrases
|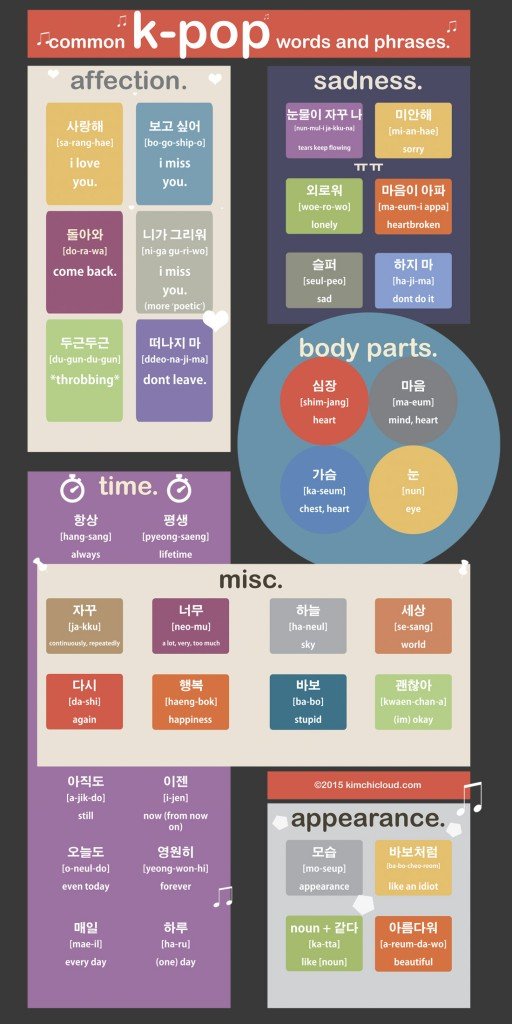 Please like or share!
 K-Pop Words and Phrases
If you're looking to understand at least part of what they are singing about in your favorite kpop songs, just knowing a few words and phrases can go a surprisingly long way. Here's a list of some of the most frequent ones. Pick any kpop song and you are almost guaranteed to find at least a few of these!
사랑해 (sa-rang-hae) – I love you.
보고 싶어 (bo-go ship-o) – I miss you.
돌아와 (do-ra-wa) – Come back.
니가 그리워 (ni-ga gu-ri-wo) – I miss you (more poetic).
두근두근 (du-gun-du-gun) – *throbbing*
떠나지 마 (ddeo-na-ji-ma) – Don't leave.
눈물이 자꾸 나 (nun-mul-i ja-kku-na) – Tears keep flowing.
미안해 (mi-an-hae) – Sorry.
외로워 (woe-ro-wo) – (I'm) Lonely.
마음이 아파 (ma-eum-i appa)- (I'm) heartbroken.
슬퍼 (seul-peo) – (I'm) sad.
하지 마 (ha-ji-ma) – Don't do it.
심장 (shim-jang) – Heart
마음 (ma-eum) – Heart / mind.
가슴 (ka-seum) – Cheast /heart.
눈 (nun) – eye(s).
항상 (hang-sang) – Always.
평생 (pyeong-saeng) – Lifetime.
아직도 (a-jik-do) – Still.
이젠 (i-jen) – Now (from now on)
오늘도 (o-neul-do) – Even today.
영원히 (yeong-won-hi)  – Forever.
매일 (mae-il) – Every day.
하루 (ha-ru) – (One) day.
자꾸 (ja-kku) – continuouosly, repeatedly
너무 (neo-mu) – Very /a lot / too much.
하늘 (ha-neul) – Sky.
세상 (se-sang) – World.
다시 (da-shi)  – Again.
행복 (haeng-bok) – Happiness.
바보 (ba-bo) – Stupid.
괜찮아 (kwaen-chan-a) – (I'm) okay.
모습 (mo-seup) – Appearance.
바보처럼 (ba-bo-cheo-reom)  – Like an idiot.
Noun + 같다 (ka-tta) – Like [noun].
아름다워 (a-reum-da-wo) – Beautiful.
Please like or share if you found this useful! And if you have any questions or something else on your mind, make sure to let us know by leaving a comment below and we will do our best to help you out!
By: Kimchi Cloud
--Comments are temporarily disabled. We apologize for the inconvenience.--