아름답다 – How To Say Beautiful in Korean
|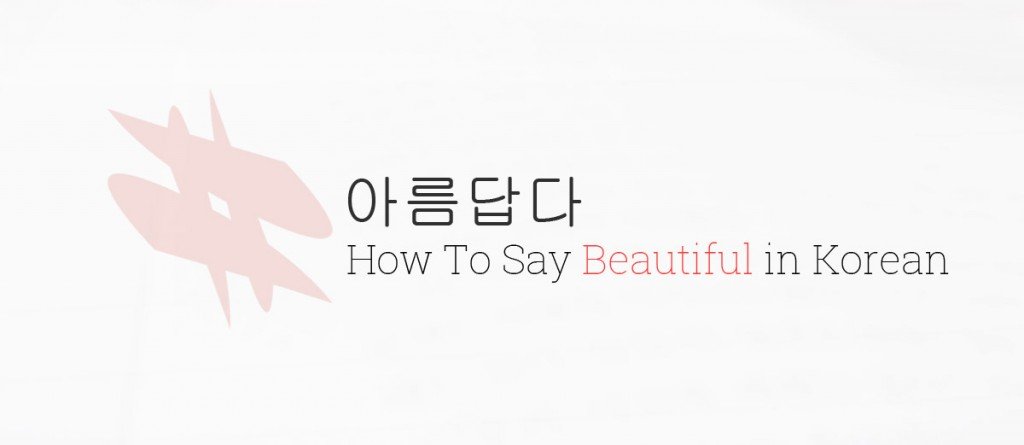 Beautiful in Korean
In this lesson, we will take a look at how to say beautiful in Korean. There are some varieties to consider depending on if you're talking to a friend, someone older etc., but they are all just different forms of the same word so if you learn one form, learning the others will be a piece of cake. The most common form is:
areumdawoyo (

polite

)
(in Hangul: 아름다워요)
This word can be use for both people and objects and is, just like in English, very similar in meaning to the word for "pretty" – yeppeoyo (예뻐요). Note that this is the polite form of the word and as such, you would mainly use it when:
Talking to someone older than you.
Talking to someone who is not a close friend.
Talking to a group of people.
You are not sure what form to use or don't know their age.
Since the subject of the sentence is often dropped in Korean and the "you" part is implied, just saying areumdawoyo (아름다워요) is usually enough as long as it's obvious what or who you are talking about. For example:
jeongmal areumdawoyo (정말 아름다워요).
= You / They / She are/is really beautiful.  *jeongmal (정말) means "really"
We strongly recommend beginners to practice Korean using the polite form in order to not insult anyone or come across as ignorant. With that said, most people are very tolerant and won't care at all if you mess up the politeness levels, as long as they feel like you're trying. For close friends and informal situations however, you should use the form:
areumdawo (

informal/friendly

)
(in Hangul: 아름다워)
As you can see, you simply drop the 'yo' (요) at the end and you've magically made the word proper for use in informal settings. The meaning is exactly the same, but you should be careful to only use this when:
You are close friends with the person you're talking to.
You are talking to your siblings.
The person you are talking to is obviously younger than you.
And in case you find yourself in a more formal situation, you should use:
areumdabsumnida (

formal

)
(in Hangul: 아름답습니다)
A lot of language schools will teach you formal Korean right from the start and then later move on to teaching different forms. Other than that, chances are you won't need to use this form that much as a beginner. But you might still hear it in formal settings such as:
Television news
Debates
Speeches
Meetings
But how can I use it to modify a noun?
All the above forms are used at the end of a sentence to say "[subject] is beautiful." For example:
kkochi areumdawoyo (꽃이 아름다워요).
= The flower is beautiful.
But suppose you want to to modify the noun and want to say "a beautiful flower". In such case, you would have to use the form:
areumdaun + Noun
(in Hangul: 아름다운)
This conjugation can modify any noun, so if we wanted to describe our dear flower we would say:
areumdaun got (아름다운 꽃)
= (a) beautiful flower.
This should cover all the essentials. For those of you who already know some grammar and want to make your own conjugations, the dictionary form of this word is areumdapda (아름답다).
Please like or share if you found this lesson useful. And if you have any questions or something else on your mind, make sure to let us know by leaving a comment below and we will do our best to help you out!
And if you haven't already done so already, check out our lesson on how to say "pretty". Or why not learn how to tell a guy he's handsome?
By: Kimchi Cloud
--Comments are temporarily disabled. We apologize for the inconvenience.--