Korean Texting / Internet Slang
|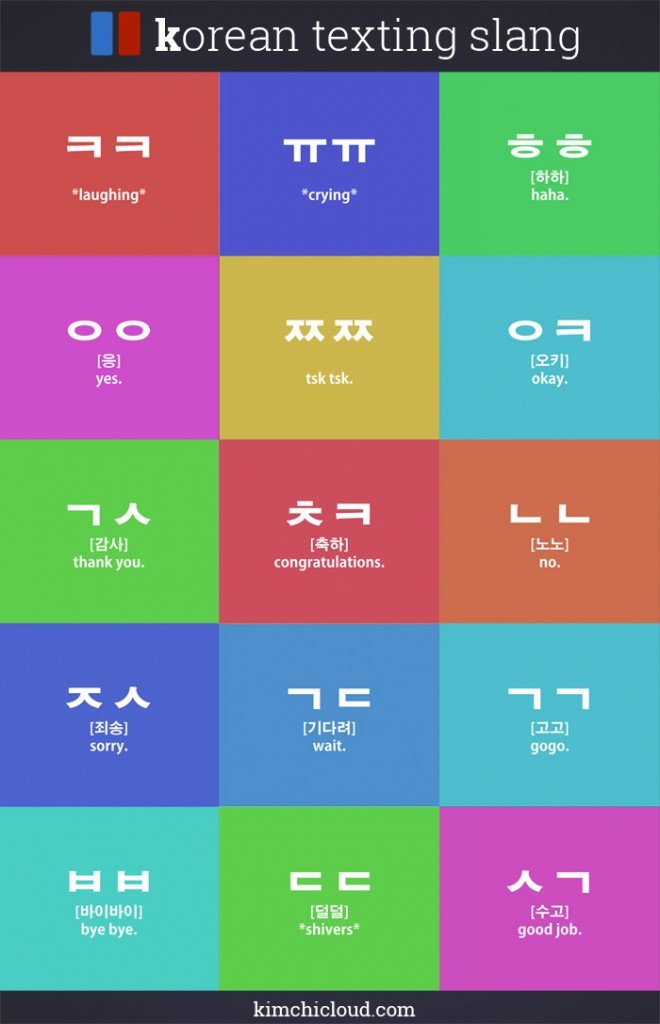 Texting in Korean
Just like English, the Korean language is full abbreviations and slang words for making texting on your phone and chatting on the Internet faster. Those abbreviated words can be a real time saver and a lot of people, myself included, use some of these on a daily basis. And even though you may not want to use them yourself, knowing their meaning is always helpful. So here are the most common ones:
ㅋㅋ – sound of giggling/laughing.
ㅠㅠ / ㅜㅜ – sad/crying eyes.
ㅎㅎ – [하하/haha] – Haha.
ㅇㅇ – [응/ung] – Yes.
ㅉㅉ – tsk tsk (that clicking sound you do with your tongue when you are displeased with someone).
ㅇㅋ – [오키/oki] – Okay.
ㄱㅅ – [감사/kamsa] – Thank you.
ㅊㅋ – [축하 / chokha] –  Congratulations.
ㄴㄴ – [노노 / nono] – No.
ㅈㅅ – [죄송 / joesong] – Sorry.
ㄱㄷ – [기다려 / kidaryeo] – Wait.
ㄱㄱ – [고고 / gogo] – Gogo.
ㅂㅂ – [바이바이 / baibai] – Bye Bye.
ㄷㄷ – [덜덜 / deoldeol] – I'm shivering.
ㅅㄱ – [수고 / sugo] – Well done / Good job.
Don't forget to check out our Everyday Korean archives for more lessons like this one!
By: Kimchi Cloud
--Comments are temporarily disabled. We apologize for the inconvenience.--