행복해요 – How To Say Happy in Korean
|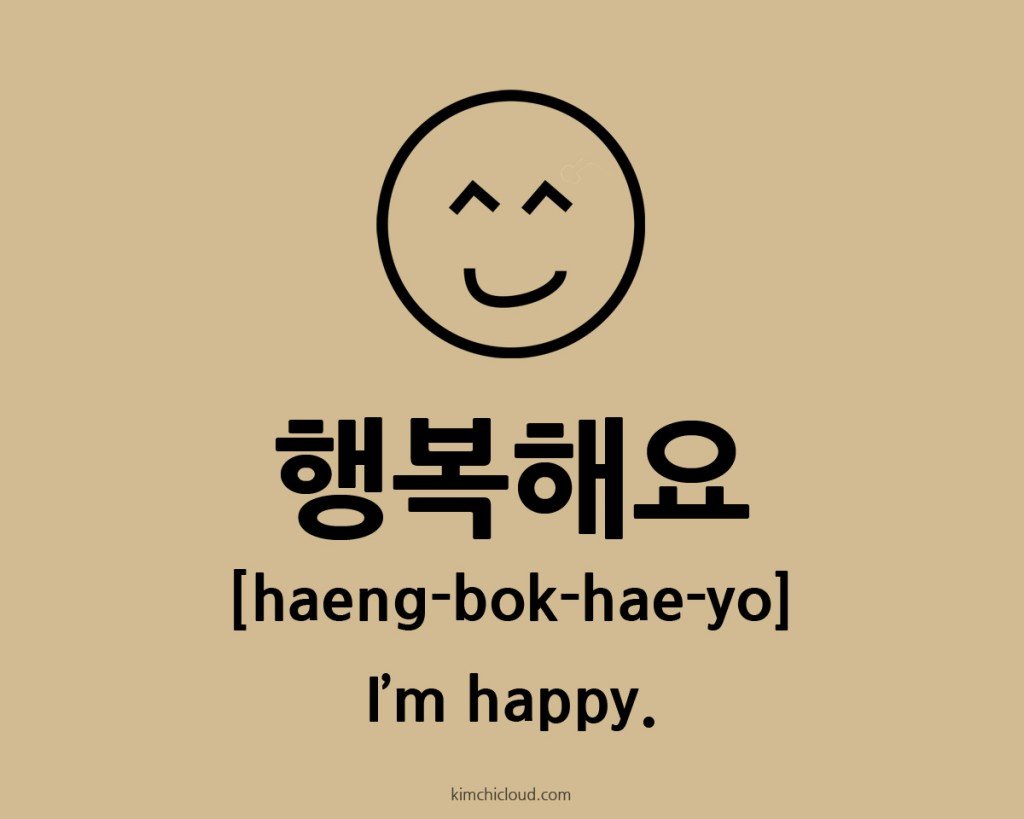 Happy In Korean
Joy. Happiness. Perhaps the best things in life. These are feelings, or emotions, and thus abstract. Thankfully we have language to convey these types of words to other people and today we will learn how to say 'happy' in Korean. Since there are many different ways to express the same thing in Korean, depending on the person you're talking with and in which situation, let's start with the ways that will never offend anyone, without sounding to awkward or formal. For this, you use the word:
haeng-bok-hae-yo
In Hangul: 행복해요
This is the most common way to say happy in Korean. But wait!  It can also mean 'I'm happy', 'she's happy' or even 'we are happy'. And if you put a question mark at the end, you just changed it to 'Are you happy?' The reason is that the subject is often omitted in Korean if it's obvious who it is. So unless you really need to specify who is happy, you just say this. However, if you need to specify that YOU are the one who's happy you can add 'jeo-neun' (저는) before the word like this: 'jeo-neun haeng-bok-hae-yo' (저는 행복해요).  The dictionary form of this word is haeng-bok-ha-da (행복하다)
The 'yo' (요) at the end makes this expression polite. So you can use it when:
Talking to someone older than you
Someone who is similar age as you but not close friends
Your teacher or professor
Your boss
Someone with higher status (age, rank etc) than you
Again, unless you feel comfortable with your Korean and don't want to offend anyone, this is what you should use. With that said, most Koreans won't expect foreigners to understand this kind of concept but you will most likely fail to make a good impression if you speak to them in 'lower' form, like you would to your friends.
So how would you say 'I'm happy' to your close Korean friends?
haeng-bok-hae
In Hangul: 행복해
As you can see, it is pretty much the same sentence, but the 'yo' (요) at the end has been removed. This makes it suitable to use with:
Close friends
People who are clearly younger than you
Siblings
Parents (not traditionally though)
Now let's imagine your significant other (who is Korean) invited you over to meet his or her parents and for some reason, you want to tell them you are happy. Would you use use the first or the second expression? It should be obvious, but since you don't know them, you they are older than you and not to mention, they are your girlfriend's or boyfriend's parents, you would use the first expression.
There is however another expression you can use to say happy in Korean. It has a somewhat different nuance to it but before we go into more details, let's first find out what the word is.
ki-ppeo-yo
In Hangul: 기뻐요
The same rules apply here. 'yo' (요) at the end makes it polite and if you remove it and just say 'ki-ppeo' (기뻐). So how exactly is this different from 'haeng-bok-hae-yo' (행복해요)? Usually  'haeng-bok-hae-yo' (행복해요) means that you are happy just not for the moment (it can also mean that you are happy for the moment as well), but in general over a longer period of time. So with that said, 'ki-ppeo-yo' (기뻐요)  has the nuance of being 'glad' or 'delighted' for the moment. The dictionary form of this word is 'ki-ppeu-da' (기쁘다).
What about Happy New Year or Happy Birthday, etc?
In these cases, you don't use any of the words we learned above. You can't translate them directly from English to Korea since they are fixed expressions. Luckily, we have made lessons on both how to say Happy New Year and Happy Birthday in Korean.
This is pretty much all you need to know about how to say happy in Korean. For more lessons like this, please check out our Everyday Korean Archive. If you found this lesson helpful, please like or share, and if you have any questions, make sure to let us know in the comments below and we will do our best to help you out.
By: Kimchi Cloud
--Comments are temporarily disabled. We apologize for the inconvenience.--