아니요 – How to say "No" in Korean
February 7, 2015

|

1 Comment

|

Everyday Korean

|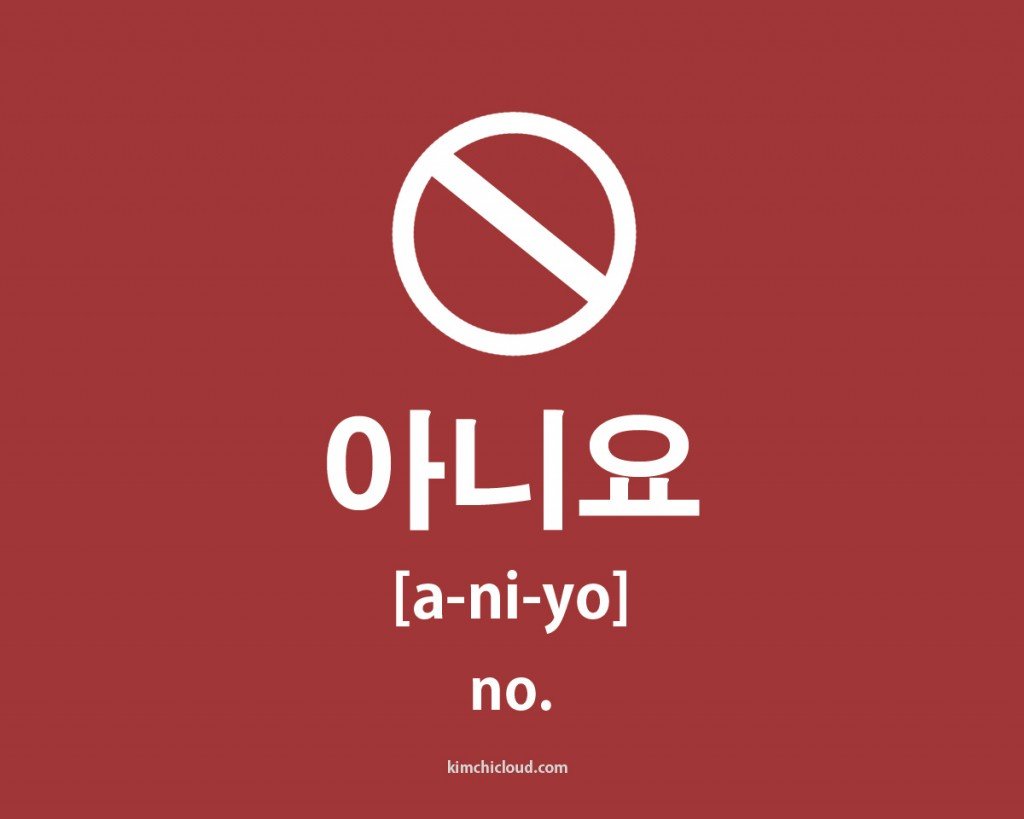 No in Korean
Let's get a little negative, shall we? Because as much as we want to stay positive and say yes, there are just times when we have to disagree with someone or give them negative answers.  It is one of the most essential expressions in any language and in this lesson, you will learn how to say "No" in Korean. The most common way to express this is with the word "aniyo" (아니요). As an absolute beginner, that might be all you want to know for now and that's fine. However, we suggest you read on further if you want a deeper explanation and a better understanding of how to use it, aswell as how to make it casual and informal.
aniyo

(in Hangul: 아니요)

The polite way

If you want to be polite and don't want to risk coming across as rude or insensitive, you should use "aniyo" (아니요). Do you see that "yo" (요) at the end? That's what makes it polite and you want to use it with people who are older than you or with people you don't know that well. Note that some people like to type 아뇨 (anyo) as a contraction of this word when chatting online, so if you stumble upon that word, that's what it means.

You should use this when:
The person you are talking with is older than you
You're not close friends with that person
You're talking to a group of people
You're unsure what politeness level to use
ani

 (in Hangul: 아니)

The casual way

If you want the casual and informal way of saying "no" in Korean, just remove "yo"(요) from 아니요(aniyo) and say "ani" (아니) and you're good. It carries the exact same meaning but you should only use it with close friends or with people who are younger than you. Remember that it takes years of practice to fully grasp the complexity of the politeness levels in Korean so if you're unsure when to use what – don't worry! You're far from alone. Most Koreans are open-minded and won't expect a beginner to know everything.
Difference between
아니요

and 

아니에요

(aniyo vs anieyo)

A lot of foreigners tend to mix these two up. And rightfully so as they look almost the same and carry similar meanings on top of that. Well, to start off, the former is just "no" (an interjection) while the latter is a descriptive verb (don't let this confuse you though) as well as the negative copula (which means that it is the opposite of "it is", which in Korean would be "ida" (이다)). In other words, aniyo (아니요) means "no" while anieyo (아니에요) means "it is not." To illustrate the difference let's take a look at an example:

A: 그것은 맥주예요? (geugeos-eun maekjuyeyo) – Is that a beer?

B: 아니요, 맥주가 아니에요.  (aniyo , maekjuga anieyo) – No, it's not a beer.

Please note
The dictionary form of anieyo (아니에요) is "anida" (아니다)
Even by Koreans, anieyo (아니에요) is often misspelled as "aniyeyo" (아니예요)
There are a lot of ways to give negative answers in Korean and we're just scraping the surface, so if you have any questions or comments, make sure to leave them in the comment section below and we will do our best to help out!  Happy learning!
Also, make sure to check out our lesson on how to say "yes" in Korean, if you haven't already done so!
By: Kimchi Cloud
--Comments are temporarily disabled. We apologize for the inconvenience.--